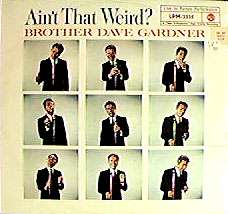 Brother Dave's third album showcases his thoughts on the politics and problems of the day, including Kennedy and "Cuber", hunting, population control and "the fuzz." Among the celebrities discussed in his routines are Abe Lincoln, John F. Kennedy, Franklin D. Roosevelt, Frank Lloyd Wright, Nikita Kruschev and Elvis Presley. Brother Dave addresses what "it" is, and reminds us at the beginning of side 2 that "If you'd bought two of these records, you wouldn't have to turn this one over!"
LPM/LSP - 2335
© 1961 Radio Corporation of America
Recorded live at Will Rogers Memorial Auditorium,† Ft. Worth, TX
Recording Engineer - John Norman
"If I ever figured out what I was doin', I'd probably go hide."
After two successful albums REJOICE, DEAR HEARTS! and KICK THY OWN SELF (for RCA Victor), Brother Dave Gardner has come up with a third album AINíT THAT WEIRD?, which is not a comment but the title. In my humble opinion Brother Dave is unique among contemporary entertainers. In an era of comedy when practitioners of the art stand up, stand still and complain, Brother Daveís spirit is glad.

Brother Dave is a contradiction to the eye as well as to the spirit. He comes on with a High Society front of dazzling and special flair. He is a diamond stickpin in the drab cravat of modern entertainment. Standing before his followers he is a picture of an elegant yesterday. Yet when he talks he talks out beyond tomorrow.

Lately Brother Dave has been carrying his message to the college campuses where the pastures are green, and the souls free. The acceptance of the collegiate has changed the course of his mission. As Brother Dave says, "When Iím doing a concert to the young, fresh, alert minds of our future leaders, I find it difficult to end a show. I donít have to stop, slow down or explain. Wherever I go in the regions of the mind, I find that they are right with me, and this confirms my opinion that the mind is beautiful, and when we meet on that plane we all swing."

Joe R. Mills, Television Editor, The Columbus (Ohio) Dispatch