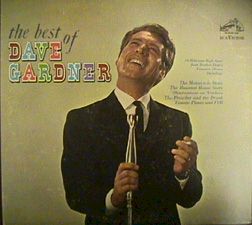 If you've never heard any of Gardner's early recordings, you'll find the highlights on this edited compilation album. Popular routines are repeated, including "motorcycle accident," "LC and the Governor's car," "the hainted house," and "the two cows." The album lacks the natural flow of Gardner's live performances, but it's a great reminder of some of his funniest bits.
"Dave Gardner drips a Southern accent all over Mister Kelly's but he don't drip no moonlight or magnolias. While he's a professional Johnny Reb, he's no sweet talker. Brother Dave manages to drawl and chatter rapidly at the same time, with the glibness of a Mort Sohl, the irreverence of a Lenny Bruce, the jargon of a cool cat, and the fervor of an old-fashioned revivalist."

Chicago Sunday Tribune

Dave Gardner was born in Jackson, Tennessee, on June 11, 1926. His first inclination to show business came at thirteen, when he started studying drums. By the time he was sixteen, he won second place in the Gene Krupa Drum Contest in New Orleans – but at that point his stage career was interrupted by a two-year hitch in the Navy. Back in civilian life, Gardner entered Union University at Jackson, then switched to Terry Art Institute in Miami, where he earned money outside school hours playing drums in local combos.

But both art school and drum playing were soon forgotten when Gardner discovered that he could earn more money and get more out of an audience simply by standing up and talking. Pretty soon, he was appearing in supper clubs and night spots all over the south – and wherever he went he left his audiences weak with laughter. Unsatisfied, however, with purely regional appeal, Dave managed a booking on the Jack Paar Show. Twenty-odd appearances later, he was firmly established as a national institution.